House Speaker Kevin McCarthy left a White House meeting with President Joe Biden on Monday saying he was optimistic about progress toward a deal on the nation's debt ceiling -- but "philosophical differences" with Democrats remained, as the clock continues to tick down toward an unprecedented default.
"I think the tone tonight was better than any other time," McCarthy said. "We still will have some philosophical differences, but I felt it was productive in that manner."
"We don't have an agreement yet, but I did feel the discussion was productive in areas that we have differences of opinion," he said.
Negotiators for the president and the speaker will keep working toward a deal, McCarthy said, and he expects he'll speak with Biden daily.
He said he had no additional in-person meetings scheduled with the president.
"We've had tough meetings, we've had difficult meetings. This meeting was productive," North Carolina Rep. Patrick McHenry, one of the Republican negotiators, said.
But neither McCarthy and McHenry would shed much light on where they'd made progress, which issues they'd worked on or what sticking points still need to be addressed -- using only broad descriptions of the honesty and professionalism in the room.
Major disagreements so far have been on the scope of any spending cuts or freezes and the possibility of new taxes in a debt deal.
After speaking with Biden, McCarthy again threw cold water on the idea of a short-term extension of the federal government's $31.4 trillion borrowing limit, saying he didn't think it "benefits anybody."
At a press conference after seeing the president, McCarthy said, "We literally talked about where we were having disagreements and ideas. So to me that's productive. Not progress, but productive."
The speaker told ABC News Senior Congressional Correspondent Rachel Scott that he sees a path where a potential "framework" could ultimately be agreed to but added, "You just got to have people who are willing to get to that point."
Among the GOP asks are getting back unused COVID-19 relief funds, major government spending cuts, work requirements for some recipients of federal aid programs and changes to permitting for new energy projects.
Biden initially demanded a "clean" raise to the debt ceiling without preconditions, as has happened multiple times in the past. But he has since reversed himself and signaled some openness to the GOP position while pushing back on the size of any cuts and pushing for new government revenues.
McCarthy and other Republicans have repeatedly ruled out taxes as part of any deal. McCarthy also opposes defense spending cuts and any changes to immigration policy.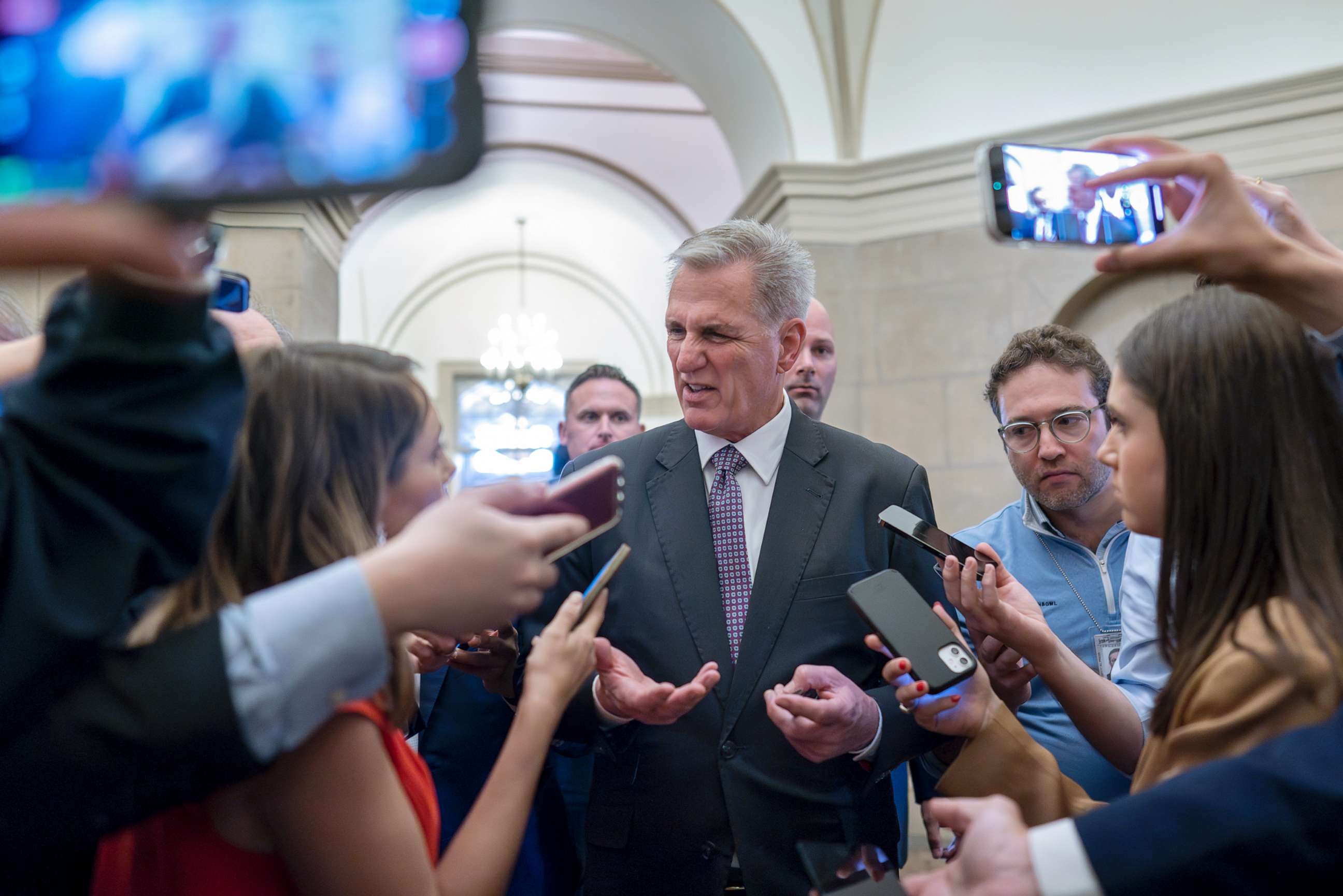 He told reporters earlier Monday that they would need a deal by "this week" in order for it to pass the House and Senate before the June 1 "X-date" when Treasury Secretary Jane Yellen has said the U.S. could default and be unable to pay all of its bills -- likely upending the domestic and international markets.
In a brief statement Monday night, Biden echoed McCarthy's assessment of their sit-down.
"I just concluded a productive meeting with Speaker McCarthy about the need to prevent default and avoid a catastrophe for our economy," he said. "We reiterated once again that default is off the table and the only way to move forward is in good faith toward a bipartisan agreement."
Ahead of their White House meeting, Biden had said that "we're optimistic we may be able to make some progress because we both agree that default is not really on the table. We got to get something done here."
McCarthy, too, agreed.
"We both agree that we need to change trajectory -- that our debt is too large," McCarthy told reporters in the Oval Office. "I think at the end of the day, we could find common ground, make our economy stronger, take care of this debt but, more importantly, get this government moving again to [curb] inflation."
That tone of cooperation is at odds with comments elsewhere, as Republicans have accused the Biden administration of slow-walking talks to avoid cutting back on government bloat while Democrats said the GOP was essentially holding the entire economy hostage to enforce extreme positions rather than raise the debt ceiling without strings.
Speaking with reporters on the Capitol steps on Monday night, House Minority Leader Hakeem Jeffries sought to paint Republicans as having not made serious concessions so far in the debt ceiling negotiations.
"The president himself continued to be extremely reasonable in the face of unreasonable demands that the extreme MAGA Republicans continue to make," Jeffries said.
Yellen had warned Sunday that June 1 is a "hard deadline" for raising the debt limit, and the possibility of making it to mid-June without default is "quite low."
On the timeline for enacting legislation, McCarthy said Monday before going to the White House that "we're going to need a couple of days to write it and to make sure that everyone's able to read it."
He pointed to a concession he made to become speaker, going back to a previous rule that requires House members get 72 hours to review legislation before voting on it.
The short timeline makes it "more difficult," he said, but added, "I think this will make it all happen."
Another looming concern as negotiations continue is whether McCarthy, if a deal is reached, will have the votes to pass it in the House.
When asked Monday if he can count on far-right House Republicans to vote for a debt ceiling deal or if he'll need to get support from Democrats, McCarthy demurred.
"I think anytime you come to an agreement that you negotiate with the president, Democrats and Republicans are both going to vote for it," he said.
The House Freedom Caucus, which boasts dozens of Republican hardliners, has called for talks with the Biden administration to stop and instead for the focus to be on getting the Limit, Save, Grow Act through the Senate -- a bill that would deeply cut spending in exchange a one-year debt limit increase deemed a nonstarter by Democrats.
Their opposition means McCarthy would possibly need a substantial number of Democratic votes to pass a debt limit deal. Several progressives have warned of backlash if Biden concedes too much ground to Republicans, and are calling for him to use the 14th Amendment to act unilaterally on the issue.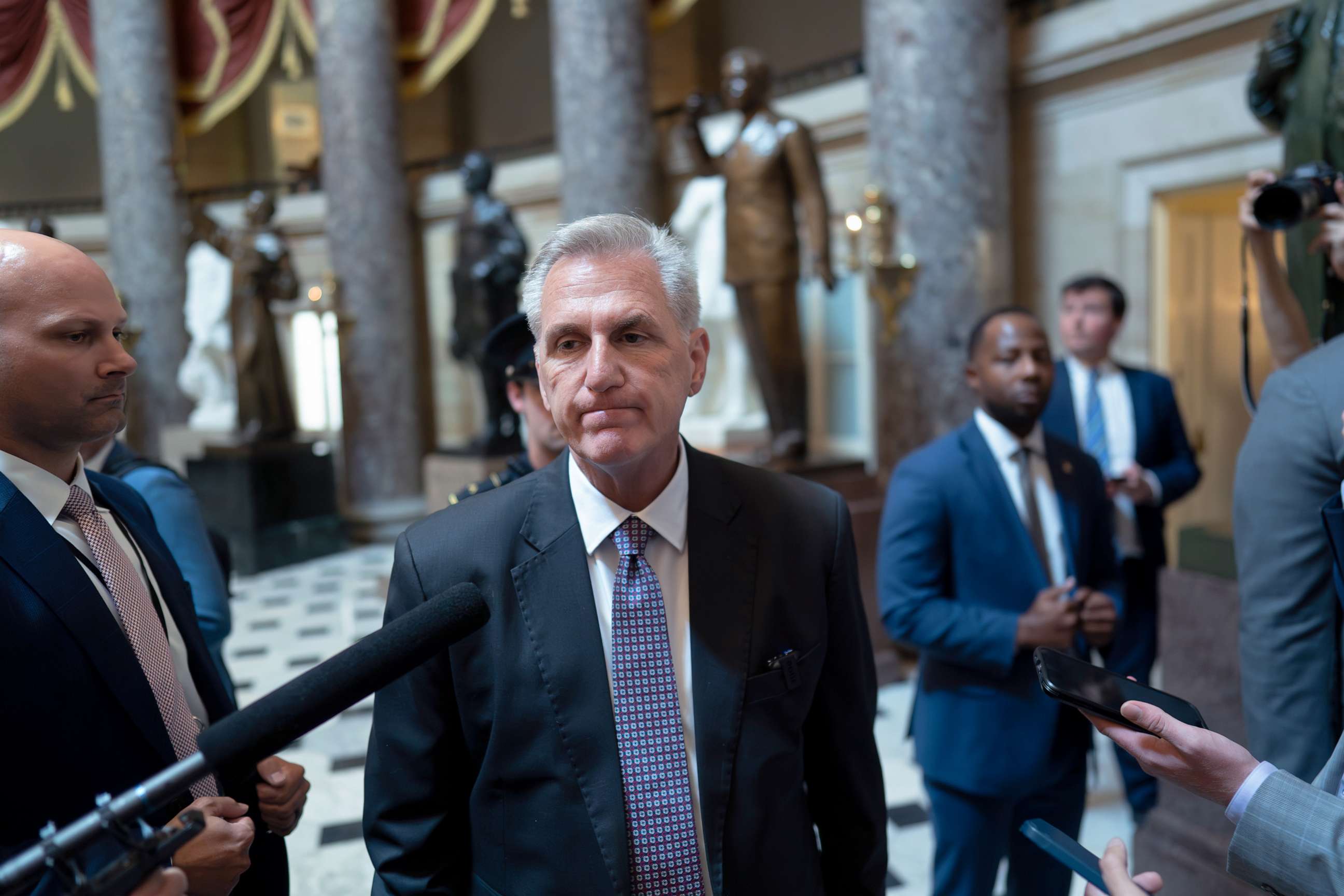 Before meeting with Biden, McCarthy continued to criticize Democrats' spending as he entered the Capitol, declining to say if there had been any movement with the White House.
"The underlying issue here is the Democrats, since they took the majority, have been addicted to spending and that's going to stop. We're going to spend less than we spent last year," McCarthy said.
He also took the opportunity to slam Biden.
"Managing a crisis in the last deadline is the worst way to handle this. That's why Republicans took action," he said.
Biden and McCarthy previously spoke on Sunday after negotiations stalled over the weekend, primarily over the issue of spending and the length of budget caps.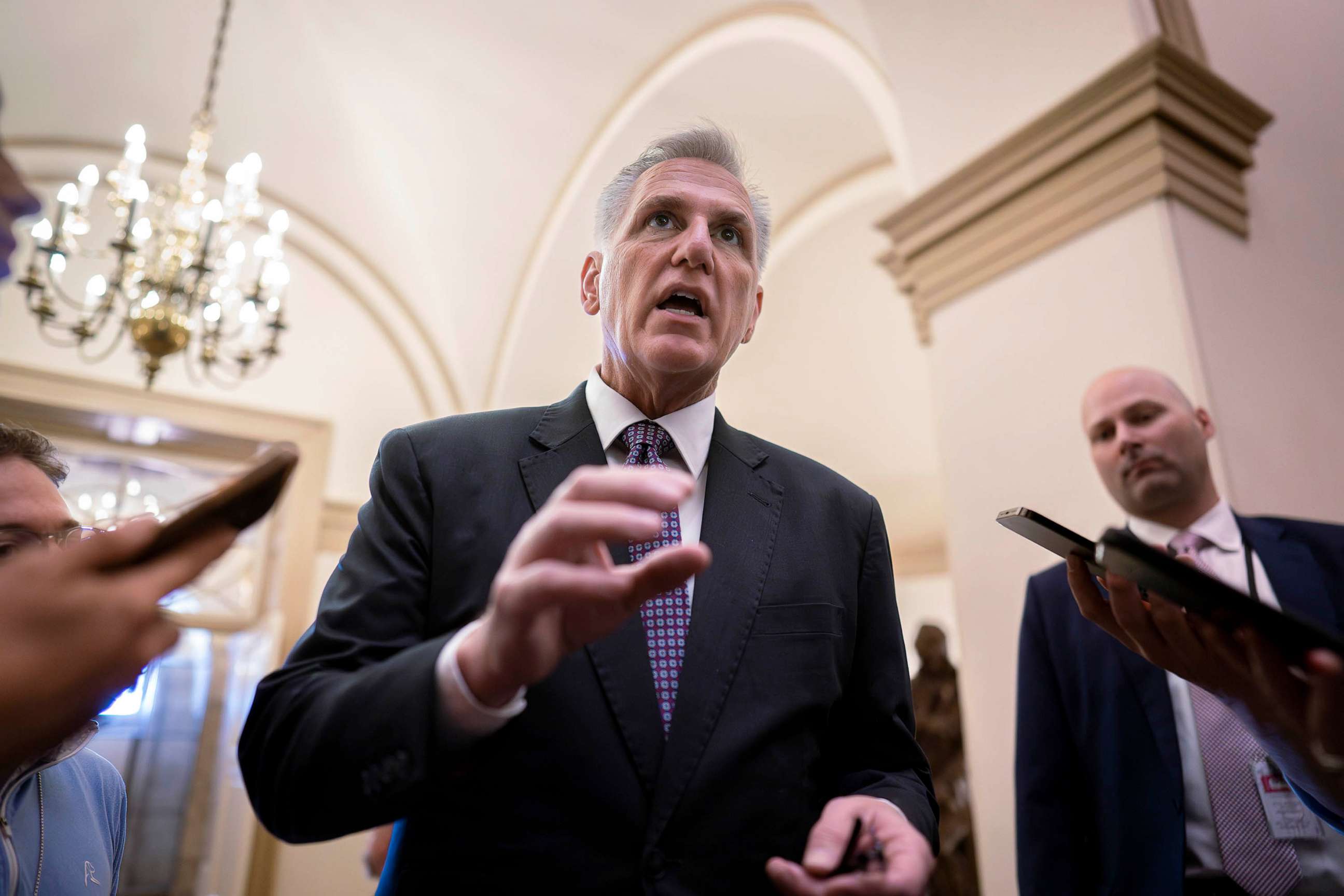 In the Oval Office later on Monday, Biden was asked whether the way to solve the impasse was through "overall spending" caps.
"Not alone, not that alone," he answered.
ABC News' Rachel Scott has reported that Republicans rejected an offer from the White House that offered some cuts to military and domestic spending, including funds related to housing, education and scientific research.
Biden's call for tax increases to also be included in a deal to raise the debt ceiling -- "so people start paying their fair share," he said Sunday -- has been dismissed by the GOP.
Rep. Jodey Arrington, chairman of the House Budget Committee, told ABC's "This Week" co-anchor Martha Raddatz on Sunday that revenue increases were "not on the table for discussion."
ABC News' Alexandra Hutzler contributed to this report.